REACH Scholarship Information
To be eligible for the REACH Georgia Scholarship Program, an applicant must meet the requirements below.
Enrolled at an eligible Georgia school in a participating district – starting the program as an 8th grader

Demonstrated and proven financial need

Proven legal status in the United States (U.S. Citizen or legal resident)

Good attendance and behavior

Grade reports reflecting the student can maintain a 2.5 or greater HOPE-calculated GPA in high school

Crime and drug-free record

Demonstrated the support of a parent, legal guardian, or other caring adult
Good Thursday Morning Mossy Creek Family,
I wanted to send everyone an update on our school's Virtual Meet & Greet and provide some information about supplies and schedules.
Mossy Creek's Virtual Meet & Greet will be released on Tuesday, Aug. 4th at 12pm. This will be a slide show that has information about health protocols, arrival/dismissal procedures and other beginning of the year information. It will also include a video tour of the school for our new students. Additionally, there will be a video of all our staff introducing themselves. I hope this will give our students and parents enough information to feel safe and comfortable about school starting on August 6th.
Also, on Monday, Aug. 3rd, you and your student will receive an email or phone call from your 1st period teacher providing you with your student's schedule, academic team, and where to report on Aug. 6th (all students will report to their 1st period class on Aug. 6th). Included in this email will be a supply list for your student's classes this semester.
Our teachers have been in the building for two days and have made great progress in getting ready for Distance Learning and Face to Face Learning.
If you have any questions, please reply to this email.
Mossy Creek Families,
As we all prepare for the beginning of school, we wanted to go ahead and give your student a chance to purchase Mossy Creek gear for this year. Students will not be using lockers therefore, they will be allowed to carry their book bag to all classes and home each night. Also, mask will be required at school when we cannot social distance. The store has book bags, mask, hats, T-shirts, polos and jackets for you to select. You will be able to pay by debit card or credit card directly to the company. Your order will arrive packaged at Mossy Creek and we will send it home with your student.
Here is the link to the store and the Mossy Creek Code is : 1848643
http://nationalbankproducts.com/index.php/company-stores/
When checking out use Mossy Creek Middle as the company name.
If you have any questions or need assistance, please reply to this email.
We are looking forward to school getting started again on Aug. 6th, 2020.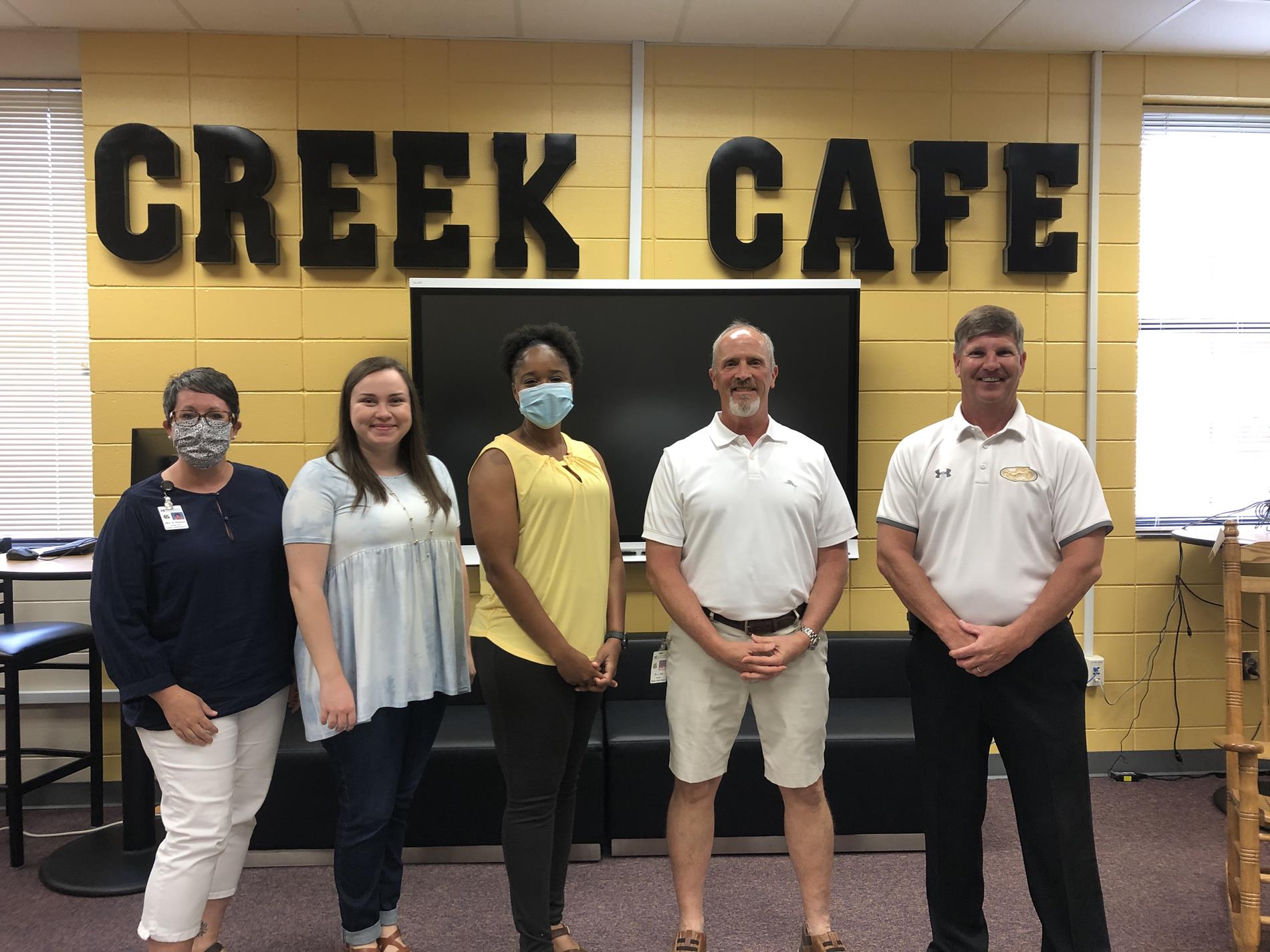 Mossy Creek says farewell and good luck to our following family members who are leaving us this year. Each of you are irreplaceable and will be greatly missed!

*Dayna Perkins will be the medtech at the new school Bonaire Primary;
*Macy Swanson is going back to her hometown to start a chorus program at the same middle school she attended;
*Olethia Thomas will be the director for Gifted and Fine Arts education for our county; and
*Jon Gill is retiring from teaching in Georgia and moving to Tennessee.
Mossy Creek Student Items Pick-Up May 19th -21st
Mossy Creek will begin the process of allowing students to come to the school to collect their personal belongings, turn in school items, and get their yearbook. If you have a school uniform, library book, teacher book, or textbook at home, please bring those with you to the pick up to return to the school.
Tuesday May 19th – Thursday May 21st will be our designated time for this process. Each student will be assigned a time by grade and alphabetical order (last name).
Protocols for Pick - Up:
1) All Students and Parents will stay in their cars – we will follow our car rider pick up process –see schematic.
2) Parents/Students will write their name, homeroom teacher name, and the word "yearbook" if you purchased one on a piece of paper and place it in the dash of your car for us to see.
3) We will deliver the items from their locker to your car.
4) While we are waiting for their belongings, students may turn in uniforms, books and receive their yearbook from Mrs. Roth.
5) If you still have medication at the school, Mrs. Perkins will deliver your meds to you while you wait on your students belongings.
6) If you have multiple students that attend Mossy Creek, just choose one pick-up time and we will get all your student's belongings at this time. Please write all names and HR teacher on the sheet of paper.
7) If your student cannot attend their assigned pick up time, please reply to this email and I will provide you with another pick up time that will work with your schedule.
Below are the scheduled Pick up times by day and alphabet (last name) for all grade levels:
Tuesday May 19th – 8th Grade Pick up
8am – 9:30am – A-D last name
10am-11:30am – E-J last name
12:00pm- 1:30pm – K-P last name
2pm – 3:30pm - Q- Z last name
Wednesday May 20th 7th Grade Pick-up
8am – 9:30am – A-D last name
10am-11:30am – E-J last name
12:00pm- 1:30pm – K-P last name
2pm – 3:30pm - Q- Z last name
Thursday May 21st 6th Grade Pick-up
8am – 9:30am – A-D last name
10am-11:30am – E-J last name
12:00pm- 1:30pm – K-P last name
2pm – 3:30pm - Q- Z last name
End of School Year Update:
May 1, 2020
Dear Parent:
The response of our students, parents, teachers and administrators to the changes brought about by COVID-19 have made me very proud to be your superintendent of schools. Everyone has risen to challenges we never expected to face and have put forth their best effort. Thank you for everything you have done to help ensure your child's education has continued, despite the pandemic and closure of campuses.
I am writing to share how we will close out this school year. First and foremost, the school closure due to the pandemic will only help your students' final grade. Our teachers, students and parents have worked hard these last few weeks through the digital learning platform and other virtual tools. The schoolwork accomplished at home since April 6 will only be used to positively impact grades.
As planned, the school year will end on Friday, May 22. The last day teachers will provide new instruction and give assignments is Friday, May 8. This will give students a week to complete any missed assignments and makeup work by the following Friday, May 15. This semester, we will not give final exams or state assessments.
During the last week, teachers will calculate grades and prepare to issue report cards. Teachers will compare your student's average when schools closed March 13 to the current average as of May 15, and the higher average will be used for final grades and promotion/retention decisions.
We will contact you about the process the last week of school to return Chromebooks, textbooks, library books, uniforms, etc. Once it is safe to reopen campuses, we will ask you to pick up any personal items. As always, the safety of our students and staff is our number one priority and is the focus of decisions.
Report cards will be mailed the end of May. Elementary school report cards will be mailed May 22; middle school and high school report cards will be mailed May 27.
I am very proud of the way our school families have come together to ensure quality teaching and learning have continued during this unexpected time! Thank you again for all that you have done during this pandemic.
Sincerely,
Mark A. Scott, Ph.D.
Superintendent of Schools
Congratulations to our 2020 Teacher of the Year: Amy Gautney
Mossy Creek Digital Learning Begins April 6
Mossy Creek Parents,
Mossy Creek will be moving to Digital Learning beginning April 6th. All of our teachers will be holding face to face online classes for students twice per week through the Zoom app with additional work sent to students through Google Classroom. I have attached our schedule at the bottom of this page (based on Monday's school schedule) for you to see. You can use this as a guide to know when your student needs to be working on school. Teachers will be teaching classes in the morning from 8am -11am and will be available to assist students with questions and assignments from 1- 4pm each day. Please reach out to your child's teacher if they need help. You can contact your child's teacher through the school website, Infinite Campus, or Google Classroom.
Your student should log in to their Google Classroom through Single-Sign-On located on the HCBE website (https://portal.hcbe.net/_auth/Login.aspx?ru=L3Nzby9wb3J0YWw=). Your student's teacher will send them an email through Infinite Campus and Google Classroom to let them know how to join a ZOOM class during the scheduled times. It is important that students complete the assignments sent through Google Classroom as grades will be taken during this time of Digital Learning.
Please be patient with our teachers as they work to make this new type of learning a success. We ask that you work with us to continue to educate your child even in these tough times.
You can always reach out to me at andy.gentry@hcbe.net or you can call the school office Monday- Friday from 9am- 3pm (starting April 6th) if you need anything.
Below are the rules/norms that students should follow while they are on Digital Learning:
Participate fully by listening and following directions.
Mute your device until called upon to speak.
Behave appropriately.
Chat only with your teacher.
Dress appropriately.
Minimize background distractions.
Have an appropriate workplace.
No recording or taking pictures of Digital Learning on Zoom.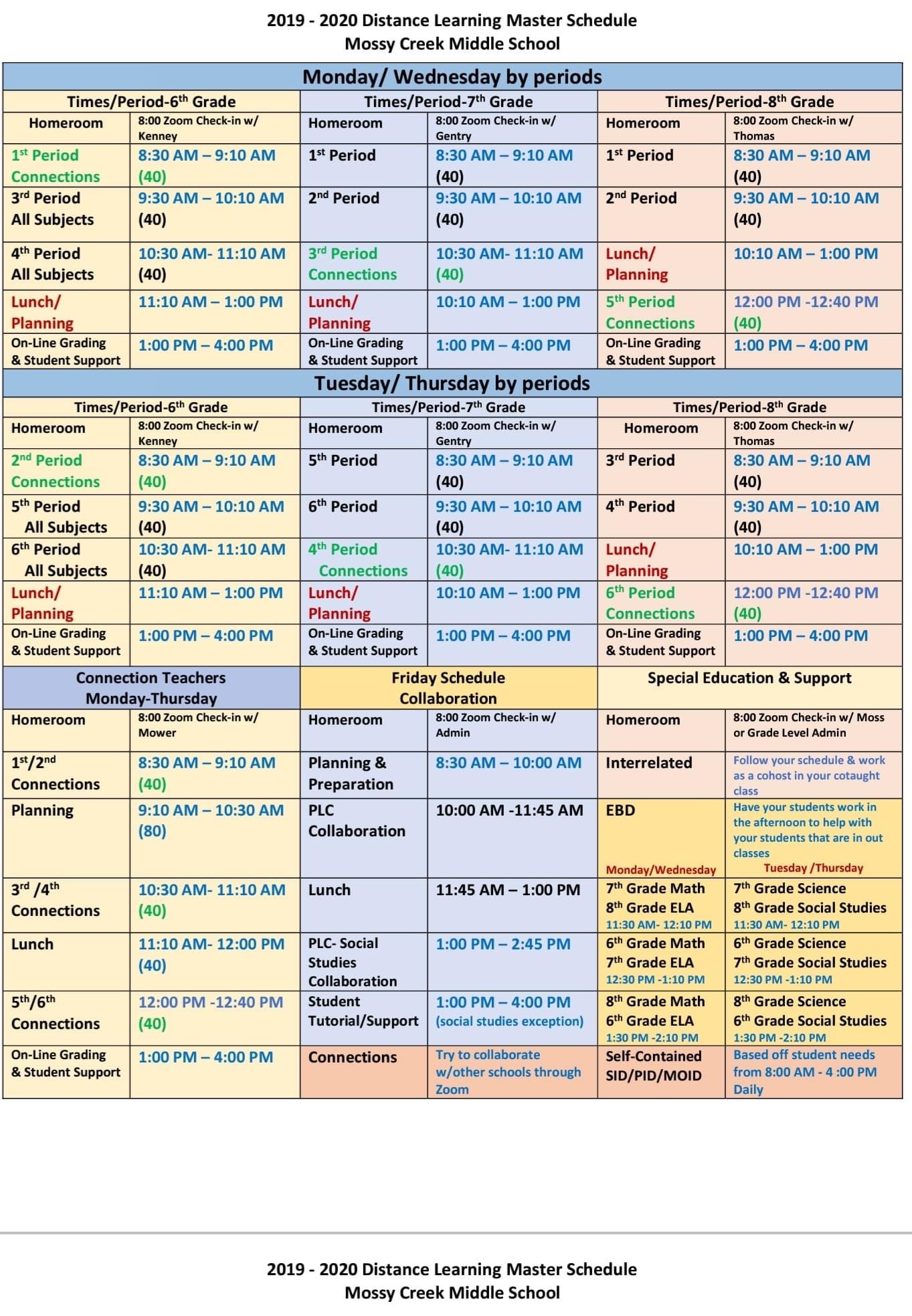 Zoom- video conferencing platform
Attention Parents & Students: