Mossy Creek Digital Learning Begins April 6
Mossy Creek Parents,
Mossy Creek will be moving to Digital Learning beginning April 6th. All of our teachers will be holding face to face online classes for students twice per week through the Zoom app with additional work sent to students through Google Classroom. I have attached our schedule at the bottom of this page (based on Monday's school schedule) for you to see. You can use this as a guide to know when your student needs to be working on school. Teachers will be teaching classes in the morning from 8am -11am and will be available to assist students with questions and assignments from 1- 4pm each day. Please reach out to your child's teacher if they need help. You can contact your child's teacher through the school website, Infinite Campus, or Google Classroom.
Your student should log in to their Google Classroom through Single-Sign-On located on the HCBE website (https://portal.hcbe.net/_auth/Login.aspx?ru=L3Nzby9wb3J0YWw=). Your student's teacher will send them an email through Infinite Campus and Google Classroom to let them know how to join a ZOOM class during the scheduled times. It is important that students complete the assignments sent through Google Classroom as grades will be taken during this time of Digital Learning.
Please be patient with our teachers as they work to make this new type of learning a success. We ask that you work with us to continue to educate your child even in these tough times.
You can always reach out to me at andy.gentry@hcbe.net or you can call the school office Monday- Friday from 9am- 3pm (starting April 6th) if you need anything.
Below are the rules/norms that students should follow while they are on Digital Learning:
Participate fully by listening and following directions.
Mute your device until called upon to speak.
Behave appropriately.
Chat only with your teacher.
Dress appropriately.
Minimize background distractions.
Have an appropriate workplace.
No recording or taking pictures of Digital Learning on Zoom.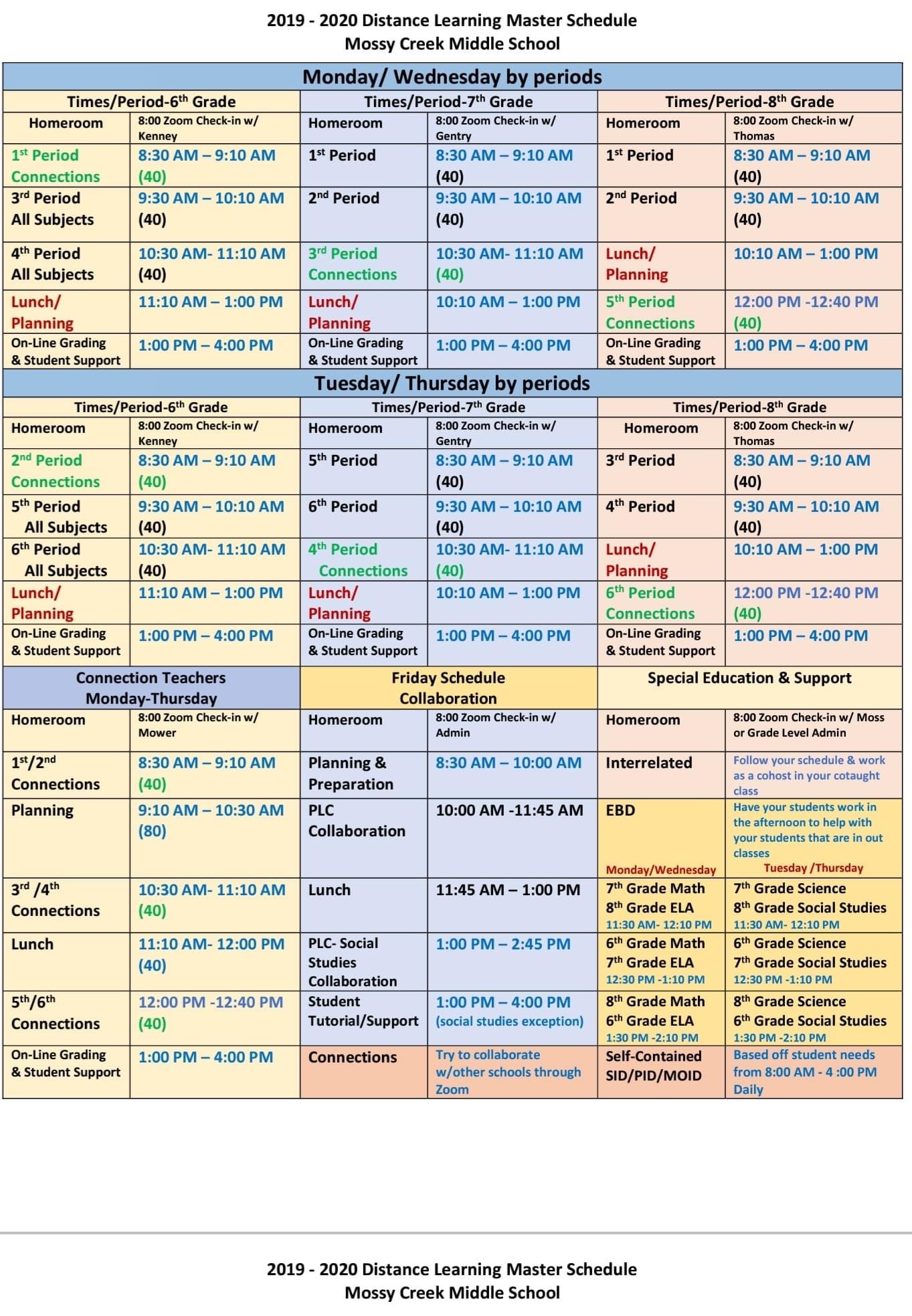 Zoom- video conferencing platform
Attention Parents & Students:
Our teachers will be in contact with you about using the Zoom video conferencing platform as a tool that they will utilize to keep in contact with their students. Here is a great instructional guide to help you get started with Zoom. All students will need to be able to access this after Spring Break. Please notify your teacher if you do not have access to a computer, cell phone, or tablet.
Thanks!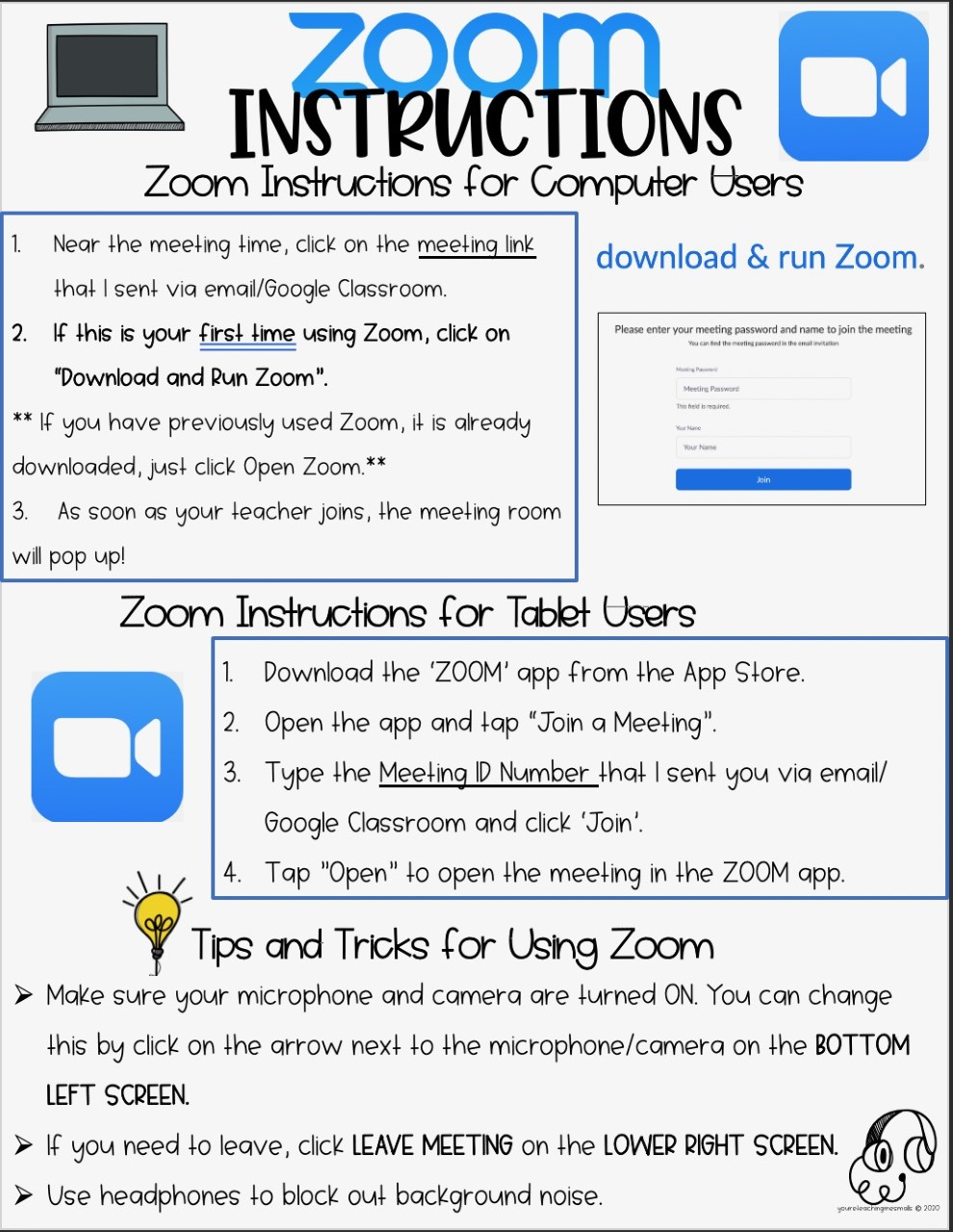 March 22nd message from Dr. Gentry
Good afternoon Mossy Creek family,
I wanted to let all the students know that we miss you. We hope you are doing well and staying safe. Many of you have been working on assignments your teachers have sent through Moby Max, Google Classroom or just work that has been sent through email. Please continue to keep working school into your daily activities. The assignments sent will not be graded but teachers will continue to give feedback in regards to student performance. This week our teachers will begin organizing Distance Learning just in case we are not allowed to start school after spring break. We will continue to send you assignments to help you with your education at home. If you have any questions or need help, please email your teachers through Infinite Campus (https://houstoncountys.schoolinsites.com/infinitecampus) or our Mossy Creek Website (https://mcms.hcbe.net/). If you cannot reach your teacher through these platforms, simply send me (andy.gentry@hcbe.net) the email and I will make sure they get the info. I hope you all have a great week. Please continue to keep our students safe through hand washing and social distancing.
I would like to see what all of our students are doing that is education-related while they are at home. Please visit the Mossy Creek Facebook page and drop us a picture and caption letting us know what you are doing while you are homeschooling.
We miss everyone and are here to help if you need anything!
Be Gritty and Go Gators!
March 18th message from Dr. Gentry
Mossy Creek Family,
Good morning, I hope everyone is staying safe and practicing Social Distancing. We have had many students begin working on Moby Max and other assignments sent out from our staff. Below is another great resources for books so you do not have to go buy a book to read. As always, we are here to support you and help. Please contact us if you have any questions or need anything.
GREAT NEWS! Get Georgia Reading, the statewide reading initiative, worked overtime to get FREE access to myOn online! You now have access to over 6,400 online books and age appropriate news articles that you can share with your students and their families. Signing in to access these is EASY and FREE for everyone!
Getting started is easy!

Go to

www.myon.com/login/index.html

to login and start reading.

School Name: Get Georgia Reading

(type the first few letters and select from the drop-down menu)

Username: yourcounty (e.g. houstoncounty)

Password: read

Click the Sign In button and start reading!
Stay safe my friends!
March 16th message from Dr. Gentry
Mossy Creek Family,
I hope everyone is doing well and staying safe during our school closure. I wanted to provide our school family with some online resources to assist in keeping your student's education moving forward during our closure. The HCBOE will be sending out online resources to help but Mossy Creek also utilizes Moby Max as an online resource at our school. All Mossy Creek students have an account and can use their lunch number as the username and password to get signed in and started. If you have any questions in regards to your username and password for Moby Max, please email kelli.sikes@hcbe.net and she will be glad to assist you in getting what you need.
Moby Max website: https://mobycentral.mobymax.com/
We are already working with many students to get them set up on our Moby Max website to assist in their learning while out of school. We are finding that many students changed their username to lastname.firstname and using the student's lunch number as their password. Please try this prior to sending an email. Again, if you are having any issues, please contact andy.gentry@hcbe.net or kelli.sikes@hcbe.net for assistance with Moby Max.
We are here to assist our school community in any manner necessary. Please feel free to contact me at andy.gentry@hcbe.net if you need anything.
Additionally, we realize that some of your students may have medication here at school that is going to be needed during this time of school closure. We have made arrangements to have staff on hand Wednesday, the 18th of March between the hours of 10:00am and 2:00pm so that you can pick up any necessary medication. Please ensure that you have photo ID with you when you come to pick up any medication that is prescribed for your student. Medication will only be released to a parent or guardian.
FAQ: https: www.hcbe.net/faqs
Again, we are here to support our community and hope you will reach out to us if we can assist in any manner.
---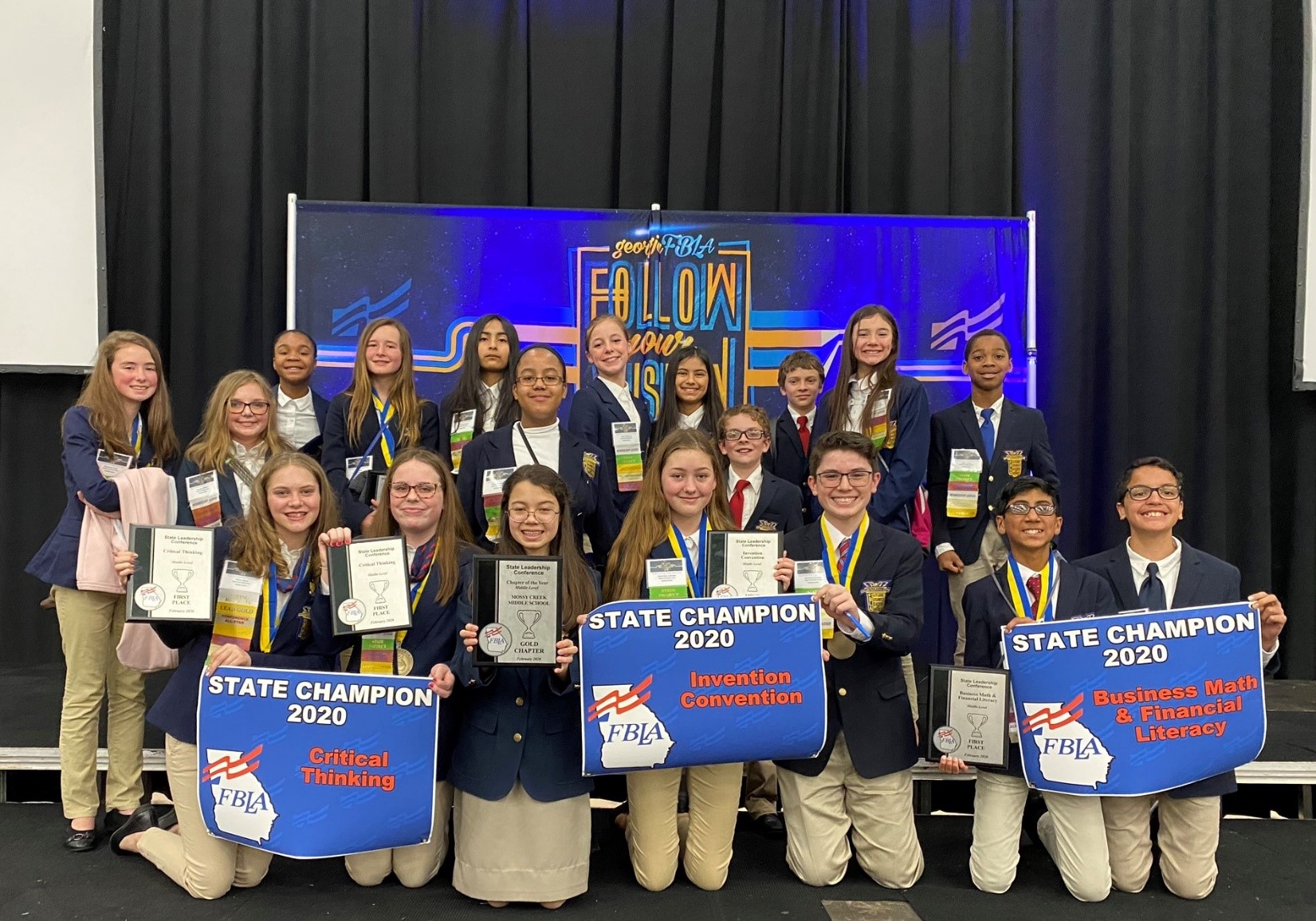 Nineteen MCMS FBLA students and their advisor Mrs. Robin Fobbus attended the State Conference in Covington, GA on February 24, 2020. The students competed in events with students from all across the state. The competition resulted in 6 top 10 wins for MCMS.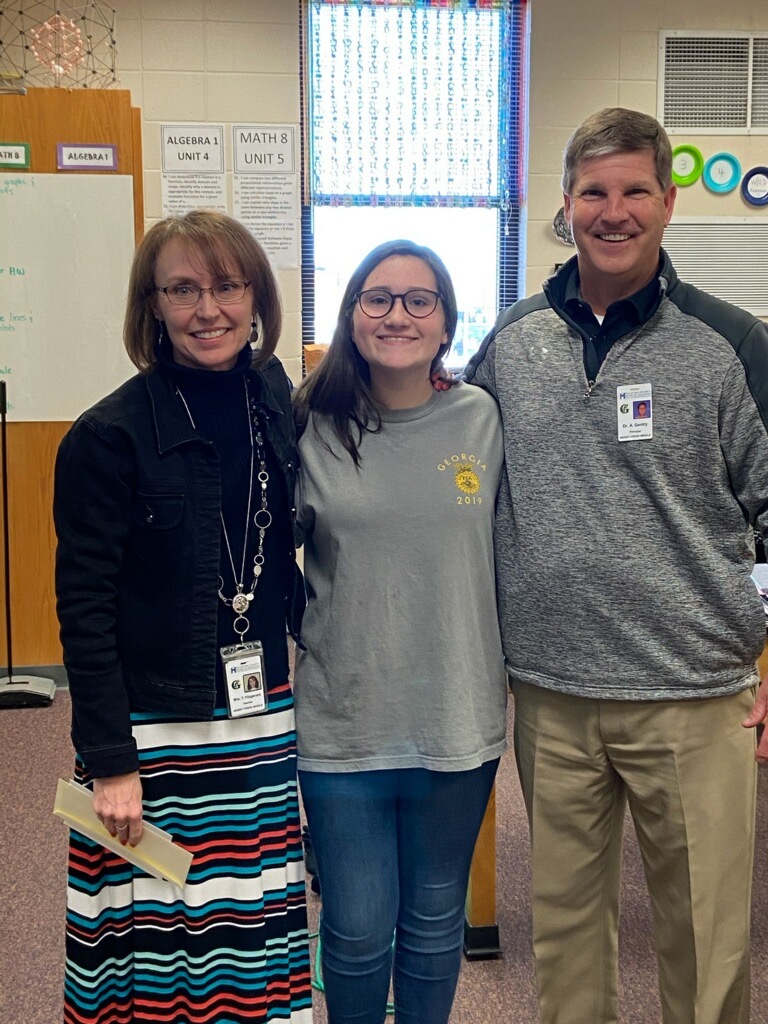 Shout out to Kallie for writing the winning essay for the Houston County League of Junior Cotillion. Kallie's essay featured her Algebra teacher, Mrs. Fitzgerald. You make us proud!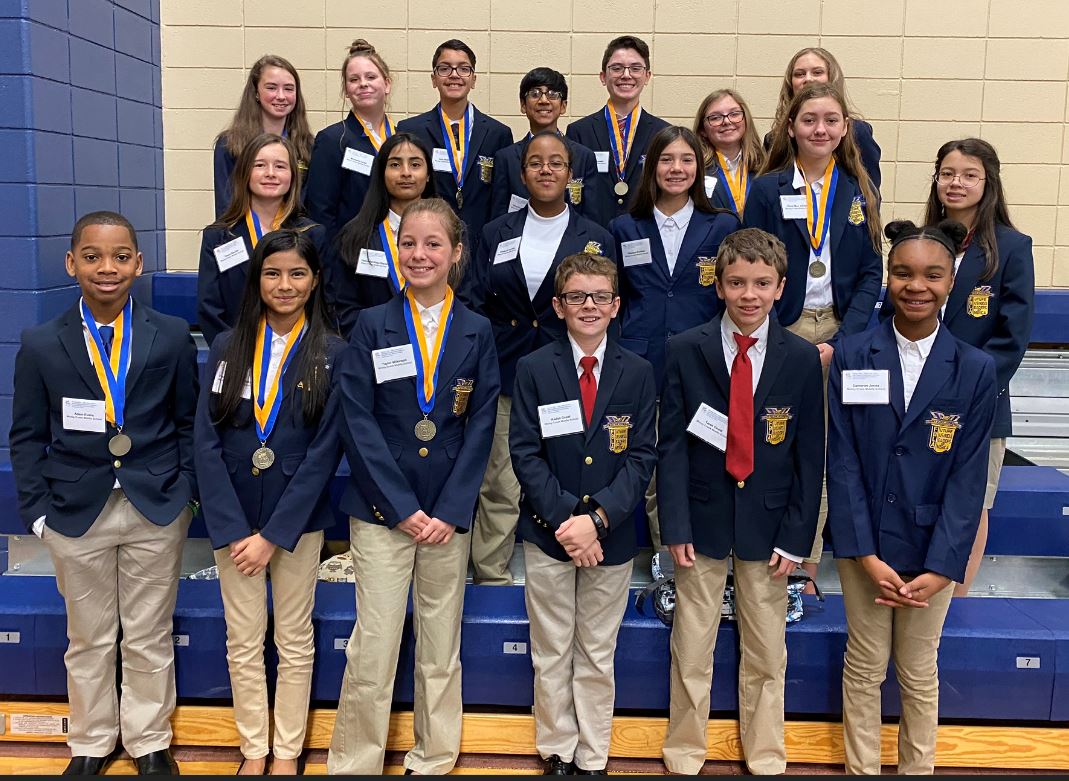 Mossy Creek Middle Level FBLA chapter took six 1st place awards, four 2nd place awards, one 4th place award and two 5th place awards at the annual Region Leadership Conference held at Central Georgia Technical College on January 24, 2020. The competition was part of a leadership conference for FBLA members from surrounding counties.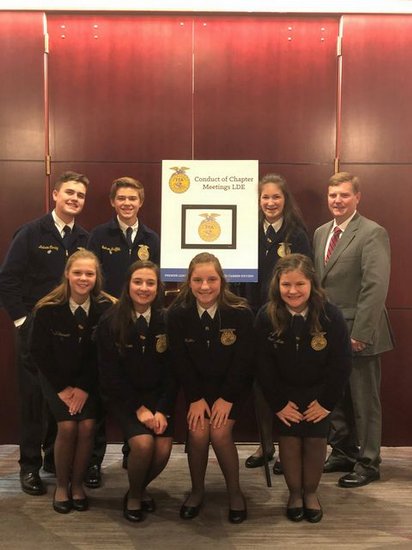 MCMS FFA WINS NATIONAL AWARDS
Mossy Creek Middle School FFA won eighth in the nation for the Conduct of Chapter Meetings event. The team competed at the 92nd Annual National FFA Convention and Expo held in Indianapolis, Ind. Oct. 30 – Nov. 2, 2019. The Georgia state champion team was ranked a Gold Team for its national ranking. The Mossy Creek Middle FFA adviser is Justin Bennett.
The team members are pictured at the national convention. Congratulations to: (from left, front row) Maci McDermott, Carlye Green, Tess Rollins, Avery Allen; (back row) Andrew Carnley, Jackson Griffith, Summer Smith and Bennett.
The Conduct of Chapter Meetings event tests a team of seven students' knowledge of parliamentary law. The three-phase competition consisted of the following: written examination, oral questions, and a parliamentary presentation to include opening and closing ceremonies.